/
Mastering the Future of Multifamily Maintenance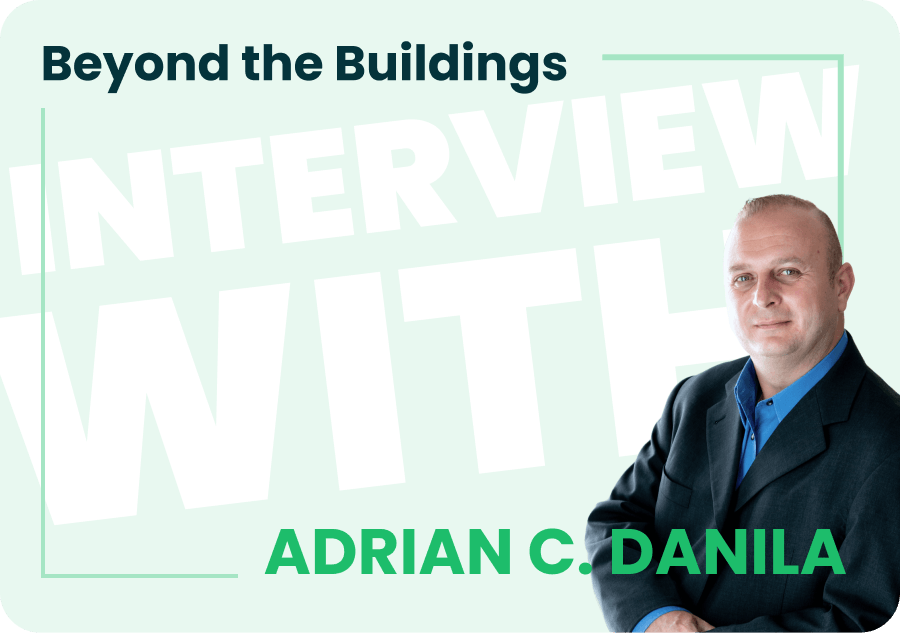 Insights from Adrian C. Danila, an unstoppable force in the industry.
Introduction: A Journey of Resilience and Innovation
Imagine stepping onto the grounds of a multifamily residence, rake in hand, leaves crunching underfoot. You're young, eager, and part-time. Fast forward almost two decades, and you're not just caring for the grounds—you're overseeing an entire empire of maintenance operations. Adrian C. Danila's career has been nothing short of a meteoric rise. His humble beginnings as a part-time groundskeeper in 2003 set the stage for a journey filled with opportunities, challenges, and relentless dedication to his craft.
Over the years, Mr. Danila has assumed roles of increasing responsibility with industry powerhouses such as Greystar, Cortland, Balfour Beatty, ECI, and Birchstone. In a pivotal career move earlier this year, Mr. Danila took on the role of Vice President of Maintenance Operations at PMG Property Management. He became the Senior Director of Facilities at RPM Living following a strategic merger. His trajectory tells of a knack for leadership, a keen eye for market trends, and a passion for technological innovation.
"Challenges are simply opportunities in disguise."
The Investor's Pulse: Thriving Amidst Market Volatility
As someone donning multiple hats, including that of a real estate investor, Mr. Danila stays attuned to the seismic shifts that can shake the real estate market. Rising interest rates have tossed a wrench into the investment dynamics, slowing transactions and straining asset portfolios. However, this is where Mr. Danila's seasoned wisdom shines—viewing challenges as latent opportunities. He notes that the current market climate might soon offer discounted multifamily assets. Investors should have well-vetted strategies prepared.
Reframing Challenges: The Pathway to Operational Excellence
"Challenges are simply opportunities in disguise," says Mr. Danila. At RPM Living, he converts such "opportunities" into actionable results. The company is rapidly expanding and needs rapid talent acquisition. The formula for success is clear for Mr. Danila: quick hires and an ever-ready talent bench to match the company's robust growth plan.
"Proptech companies that want to be successful in the multifamily space must strongly consider having the end users directly involved in designing their products and partner with industry influencers to help them increase their brand's visibility."
The Tech Frontier: Creating the Future Today
If you're not talking about technology, you're not talking about the future, according to Mr. Danila. He views technology as an enabler, especially in training and product adaptation. He advises new PropTech companies to create products in collaboration with end-users. The frontline maintenance and operational staff know what they actually need on-site.
Leadership Through Connectivity: A People-First Philosophy
More than just a manager, Mr. Danila is a "People Connector." He understands that operations are more than just logistics—the heart of operations is humans. His communication skills and hands-on leadership style empower his team to soar. "Give them the tools and resources, then get out of their way," he advises, emphasizing the importance of being a mentor and advocate for his team (along with being the boss).
"Hire the best, give them the tools and resources they need, and stay out of their way."
Cutting-Edge Innovations: Beyond the Nuts and Bolts
When asked about future trends, Mr. Danila's eyes light up as he talks about keyless access control systems, app-based training modules, and predictive sensors for equipment malfunctions. While he's still new at RPM Living, the anticipation is palpable. You can sense that wherever Mr. Danila is, innovation isn't far behind.
The Elusive Work-Life Harmony: It's All About Perspective
Some say you can't have it all, but maybe Mr. Danila does. How does he balance a demanding job with other life commitments? He brings passion to his work, making the challenging aspects of his work feel less like obligations and more like enrichment opportunities. Mr. Danila's wisdom is pure gold for aspiring professionals: show up, go the extra mile, and don't be afraid to own your achievements.
"Show up every day, do your job and some extra, volunteer for the tasks nobody else wants to take on."
Parting Words: Unlocking the Doors to Success
Mr. Danila leaves us with some thought-provoking nuggets of wisdom as we wrap up:
Learn the business language to build effective communication bridges with your higher-ups.
Be value-driven rather than self-centric.
Never shy away from those spontaneous meetings or calls—they might be the rocket fuel for your professional journey.
In an industry that thrives on both technological prowess and human ingenuity, Adrian C. Danila stands as a beacon for what's possible. His journey is a testament to the limitless potential that awaits those ready to meet challenges head-on and shape them into stepping stones for success.