/
AppWork @ Apartmentalize 2022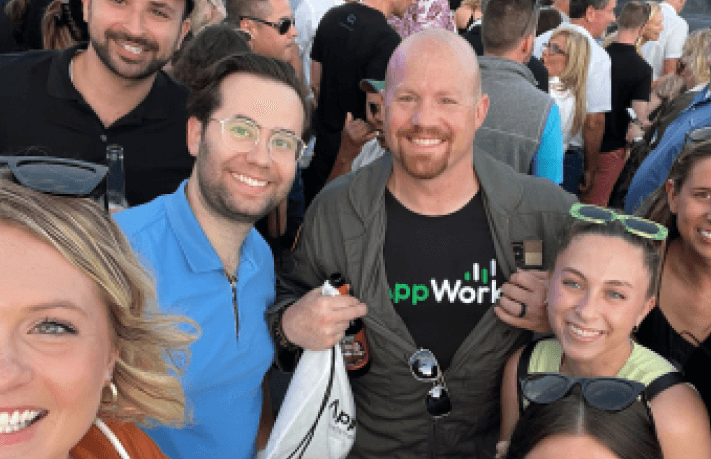 Work Hard. Play Hard.
On Wednesday, June 22nd, 2022, AppWork brought the party (patches) to San Diego for the NAA Top Gun event on the USS Midway. The party hit maximum capacity early in the evening as the multifamily masses gathered to enjoy the comedy of none other than Jeff Foxworthy! He was bookended by our industry's own Toni Blake and a couple of 90s hip hop icons - Digital Underground and Tone Lōc of "Funky Cold Medina" fame!
The conference lived up to the NAA motto of "Work Hard. Play Hard." Attendees enjoyed a plethora of food, drink, and entertainment. Everyone was also invited to partake in guided tours of the USS Midway or enjoy other ship-related activities. Of course, most people were there to network, meet up with old friends, and have fun.
The NAA Exposition
The NAA is right when it says, "Exhibitors love Apartmentalize, where they can raise brand awareness, forge new business relationships, and grow their pipeline with quality leads from industry decision-makers."
During the NAA Exposition, the crowds continued. It looked like the conference hit pre-COVID attendance levels (if not higher). Attendees packed the expo floor from start to finish. AppWork team members expressed how exciting it was to see the resurgence of attendance, and they enjoyed the excitement of the multifamily industry coming together.
The expo started on Thursday morning and included exhibitors from every aspect of the multifamily industry, from flooring to sanitation to services for building animal-friendly communities. The excitement was palpable, with extravagant booths and give-aways ranging from ballpoint pens to designer handbags to a Tesla.
The AppWork team noted that PropTech companies (in various forms) comprised at least 50% of the booths on the floor, making technology a hot topic of the conference. The exhibits clearly showed that the multifamily industry has invested, and will continue to invest, lots of money in software and technology. A rumor floated around the hall that one company spent almost $10 million on their booth!
The best part of the day was the level of engagement found in the multifamily crowd. There was a lot of traffic during the day. Everyone there, from maintenance technicians to executives, was open and eager to learn about all the services on display. The AppWork team said that the attendees evinced genuine curiosity and interest, especially concerning the AppWork platform. There is a universal need for improved maintenance services, and that's what AppWork brings to the table.
Bert Wray, CEO of AppWork, said, "I want to give a shout-out to everyone who stopped by our booth to show support and interest for AppWork." He further commented that the huge smiley face next to the phrase "multifamily maintenance" intrigued many attendees. They asked, "How are you going to bring a smiley face to my maintenance problems?"
Education Sessions
Different members of the AppWork team attended as many of the education sessions as possible. They felt almost every single session discussed one of two topics: Automation/Centralization and Recruiting.
Traditionally, the industry standard is to have a ratio of one leasing agent per 100 units and one maintenance lead per 100 units. There is a big drive to change that ratio for two reasons: increased efficiency and decreasing the amount of staff needed to run a community.
Owners and operators are using artificial intelligence for automation. For example, if a potential resident contacts the leasing office, the AI responder will send them the information they need for a virtual tour and subsequent forms.
The key to changing the industry standard is using technology partnered with centralization. Thanks to COVID, many properties adopted online workflows resulting in on-site leasing offices shutting down. Agents can now work from a single, central location with the help of virtual tours, digital payments, and online application forms.
The new standard will see no one working on-site except for the maintenance team. Multifamily companies can now aggregate leasing agents and community managers, enabling them to increase the ratio from 1 per 100 to 1 per 200.
Why such a drive to break the standard? The multifamily industry is having a big problem with recruiting. Across the board, everyone is struggling to find leasing agents, community managers, maintenance supervisors, and service technicians. With no relief in sight, the multifamily community is turning to technology for help.
The AppWork Solution
AppWork's mission is to use technology to drive efficiency in maintenance. The concerns voiced by many participants centered around the lack of staffing and inadequate training for what staff they have. AppWork can help with both of these industry pain points.
In a post-COVID market, community managers need to focus on streamlining operations and increasing efficiencies. The staffing shortage isn't going away any time soon. The real solution is for managers to maximize the workers they do have. AppWork helps this process in three ways.
First, it improves engagement with both technicians and residents. Many Apartmentalize attendees bemoaned the lack of engagement within their teams and residents. AppWork builds engagement by focusing on the technicians in a way that is unique to its platform.
The app acknowledges technician success with badges and leaderboards. On the other hand, it also keeps residents in the loop with automated communication tools and the opportunity to provide feedback. With AppWork, communication moves in a full circle between management, technicians, and residents.
Second, many multifamily leaders need a better understanding of what their training needs truly are. This understanding can only come from accessible and actionable data. AppWork's robust analytics can help identify specific categories, and even subcategories, where the maintenance team, or even an individual tech, is weakest.
Once managers have the data they need, they'll know who needs training on HVAC versus who needs more plumbing knowledge. They can also discover that a technician or team specifically needs low voltage training within the HVAC category or a better understanding of rough plumbing.
Finally, with AppWork's innovative work order system, community managers will be able to utilize fully their technicians' time and energy, enabling them to meet pre-COVID levels of production with less staff.
Friday: The Final Day
The tremendous energy of the exhibit hall lasted until lunchtime on Friday. At that time, the NAA hosted a special luncheon to hand out their annual Excellence Awards, also known as Excels. These awards recognize excellence and leadership in the industry.
The AppWork team particularly wants to congratulate Cindy Clare from Bell Partners in Greensboro, NC, on receiving a lifetime achievement award and being inducted into the NAA Hall of Fame.
NAA celebrated the closing of Apartmentalize by throwing a block party in San Diego's historic Gaslamp Quarter. Much like the party on the USS Midway, they offered food and drink from 13 local restaurants and provided live music, games, and activity stations. The AppWork team had a blast but regrets running out of party patches. They plan on bringing more for Apartmentalize 2023 and look forward to seeing everyone in Atlanta, GA!
---
Even with all of the fun and excitement of Apartmentalize, we would be remiss if we didn't extend our thoughts and prayers to our friends from The Preiss Company. Our prayers are with Lane and Toni, their family, friends, and coworkers as they journey through recovery.
The multifamily community has come together to raise funds for their industry friends. A fundraiser has already brought in over $150,000 to cover medical costs. While the incident was horrific, it is heartening to see the love and support pouring out from the multifamily community.